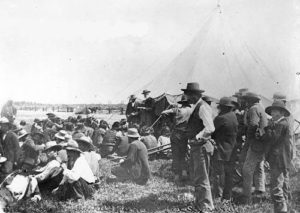 AS LONG AS THE SUN SHINES, GRASS GROWS AND THE RIVERS FLOW
Do you want to champion change alongside us for the betterment of our Nations and keep our Treaty rights strong?  Since 1997, the Treaty 8 First Nations of Alberta have been dedicated to the social, cultural, education and economic development of the First  Nations people of Treaty 8 (Alberta).
The membership of the Treaty 8 First Nations of Alberta is made up of the Chiefs of the 24 member First Nations.  The Treaty 8 First Nations of Alberta acts as a coordinating, facilitating and advocating source to various issues directly or indirectly affecting treaty rights, as per Treaty No. 8, as remembered and understood by our Elders.
On June 21, 1899, the eighth treaty between the Indians of North America and the Queen of England was signed. The signatories of Treaty 8 agreed to its terms for reasons of peace and friendship – ensuring what they thought would be a partnership. Treaty 8 was the most comprehensive treaty, encompassing a land mass of approximately 840,000 kilometers, and is home to 39 First Nation communities. Treaty territory covers the areas of Northern Alberta, Northwestern Saskatchewan, Northeastern British Columbia, and the Southwest portion of the Northwest Territories.
For more information and to contact Treaty8 Directly, head over to http://www.treaty8.ca/